San José 2011 - 9 July
Since I had car troubles and couldn't get to Los Angeles, I took a "staycation" in San José. This consisted of a bike ride out to Mark's Hot Dogs in East San Jose. On the way out there, I saw this gate at San José State University. As usual, click any of the pictures to see it at a bigger size.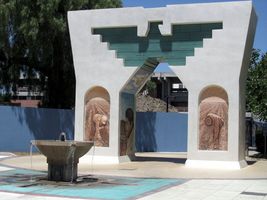 Lunch at Mark's was quite good. On the way back, I saw these wonderful sculptures across the street from San José City Hall. They were done in 2005 by an artist named Andrew Leicester.