Las Vegas 2013 - 28-31 December
Here are some pictures from my annual "go to Las Vegas for New Year's Eve" trip. As usual, click any picture to see it at a larger size.
29 December
I saw a couple of painted electrical boxes on the bicycle ride to the strip.
There's a new ferris wheel being built behind the Flamingo hotel/casino; it's visible from quite a distance.
Of course, I had to stop at the Cosmopolitan and get some objets d'art from the Art-o-mat.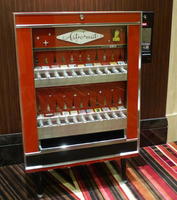 Later in the evening, I went to Sam's Town with a friend to see their laser light Christmas show. The pictures of the show itself didn't come out very well, unfortunately.
30 December
I rode my bike to downtown, and saw this misspelled sign and a closed motel that used to have "Nice Rooms."
My first stop downtown was the Downtown Container Park, a fairly upscale shopping area with lots of nice little boutiques and eateries.
Fom the top level, I was able to see some fairly nice wall artwork.
Further on towards downtown is a new zip line whose platform is in the shape of a giant slot machine named "Slotzilla." Sadly, it wasn't open yet, so I was not able to give it a try.
On the way back, I saw this attractive art on the bus stops.