Po-shin-gak and In-sa-dong
Near Chong-no is the Po-shin-gak pavilion. The bell in the pavilion is rung to bring in the Lunar New Year.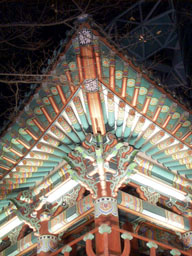 North of Chong-no is In-sa-dong (also known as "Mary's Alley"), a narrow street crowded with antique stores and art galleries. In-sa-dong is closed to vehicular traffic on the Sundays.

Sculpture at In-sa-dong

Old and New stand next to each other in Seoul.

Buddhist centers are also located in In-sa-dong.